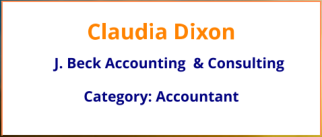 Allow me to introduce myself. My name is

Claudia Dixon.

I am
the Founder and Senior Accountant at J. Beck Accounting and
Consulting. My team specializes in accounting, bookkeeping,
and tax preparation for individuals, families, and businesses.
Very much like you, we love what we do and we happen to be
very good at it. We are big enough to have the team, talent, and
technology to help your business and your family to grow. We
are small enough to provide you with the relationships and
personalized service that you demand and deserve. Accounting,
bookkeeping, and tax preparation can become complicated. We
specialize in keeping it simple by doing a few little things that
make a big difference.
In addition to working as a consultant and accountant, Claudia is
the co-founder of Music and Money, a non-profit that promotes
financial and arts education using concepts found in popular
music lyrics. The signature fundraiser, Emerald City, happens
annually in May. A devoted mother of four, the primary focus
throughout her life and career has been community-betterment
through financial empowerment. Her aspirations are to
continue investing in the communities where she lives and
raises her children.
•
Bookkeeping
Our bookkeepers maintain your daily accounting records,
post debits and credits, generate invoices for clients, print
checks for vendors, and calculate your local, state, and
federal tax liability. This gives you the freedom to do what
you do best–Grow Your Business!
•
Accounting
At J. Beck, we provide insight on the financial health of your
business. Our team helps to:
• Accelerate your cash flow
• Implement financial controls
• Generate profit and loss statements
• Manage tax fillings
•
Tax Preparation
We prepare individual and business tax returns with the
knowledge, accuracy, and professionalism necessary to
ensure that you are in compliance, while minimizing your
tax liability and maximizing on any returns due to you from
the IRS.
•
Tax Resolution
Threatening letters from the IRS can be scary. We utilize
our knowledge and experience to gain control of your
situation by securing:
• Offers in Compromise
• Installment Agreements
• Penalty Abatement
• Innocent Spouse Relief
• Release of Liens or Levies
• Non-Filer Issues
•
Contract CFO
Your business is growing but you can't quite afford a full-
time Accountant or CFO. No problem! Hire us as your
Contract Chief Financial Officer to manage your financial
operations at a fraction of what it would cost for a full-time
hire.
•
Payroll
Whether you have 2 or 42 employees we can
provide you with payroll and HR services that will
save you both time and money.
(225) 380-0387 Office
866-389-2279 Fax
501 Government St, Suite 105
Baton Rouge, LA 70802
Web: www.jbeckaccounting.com
Email: claudia@jbeckaccounting.com